Using art to combat waste
---

Sat Sep 30 0:00:00 UTC 2017
The war on waste came to Newstead Primary School in a series of creative art and sustainability workshops.
Visiting artist Carolyn Cardinet encouraged students to consider the impact of plastic rubbish in the local and wider environment. Her visit to the school was part of an artist-in-residency program at the Newstead Railway Arts Hub.
Household plastic bottles and containers were reimagined by students into fish, penguins, turtles and other sea creatures. The students continued their exploration of plastics and pollution in classroom activities and art lessons.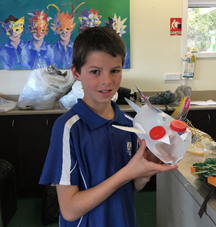 The school was thrilled to have Carolyn visit the school.
"Carolyn creatively conveyed the message of reducing plastic waste through her art and leading this experience for the students. It's given our students the opportunity to think deeply about the impact of plastics in their environment," said Acting Principal Jacqui Righetti.
"We are most appreciative of Carolyn donating her time to our school and sharing her amazing talent with our community."
Grade 6 student Louis Chapman valued the hands-on experience.
"It was inspiring and fascinating. I wasn't really aware of just how much rubbish goes into the ocean. It has made me think more about our actions around plastics in our school and my community."
Melbourne-based Carolyn is the Arts Hub's first artist-in-residence. She creates art with a purpose, using found objects to raise awareness of plastic consumerism, waste and the pollution that it engenders.
"I encouraged children to bring their plastic packaging to the school so they realise how much their own household consumes and what they can do about reducing their contribution to landfill. We then assembled the single-use packaging into art. The children had a great time making the art and learning about the problem of waste."
The students' and Carolyn's artwork were on display at the Arts Hub at 8A Tivey Street Newstead on Saturday 30 September 2017. Students participate in an extensive program of events at school, in the local Newstead community and further afield in the Central Victorian region and beyond.